A Quick Peek at the Original Serra Angel:
Serra was a classic include back in the days of The Deck, and made two different Top 8 decks way back at Pro Tour 1.
Kaldheim seems to be going crazy with the Serra Angel variants. It's got land-Serra, enchantment-Serra, Saga-Serra, and Sorcery-Serra! With so many variants, it's kind of excusable that we don't have, you know, creature-Serra Angel (at least not yet).
So… Who's in for a 4/4 flying vigilance?
Great Hall of Starnheim is the Serra You Play Out of Your Resource Row
Pro: It's a land
Con: It enters the battlefield tapped. While it only taps for B, it requires WW to power up. More than that, it requires having a creature already to make a 4/4 flying vigilance Angel.
Still… It can make a Serra Angel without consuming a "spell" slot. Look for this card to sacrifice Omen of the Sun tokens, support at least some B/W Angels decks, or slide right into a heretofore unseen Mardu sacrifice deck. Claim the Firstborn + Great Hall of Starnheim is awfully spicy, no?
Starnheim Unleashed is a weirdly discounted Broodmate Dragon-Serra Angel
Some options:
Foretell for two mana on turn two; X=1 on turn three… This will give you exactly one Serra Angel for the cost of a Serra Angel; but you get to pay for it in installments.
Hard-cast: Essentially a one mana discount on the classic
Broodmate Dragon! If you Foretell on a previous turn (doesn't have to be turn two), you can tap five mana to get a one mana discount (and double vigilance upgrade). Technically 7 > 6, but again, the installment plan on mana provides an effective discount
Tap LOTS of mana. Get lots of Angels.
Firja's Retribution is "Only for Angels Decks"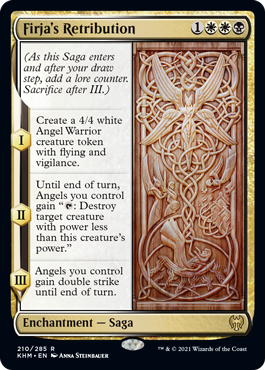 Like Starnheim Unleashed, Firja's Retribution gives you a let up on the classic cost.
Adding a quasi-Vindicate ability to a creature that already has vigilance is a great combo for Chapter Two.
Chapter Three is kind of exciting with one 4/4… But super devastating only if you have more than one.
The question here is how Angels will coexist with the other decks in the metagame. If Standard is just about StOmPy decks… Clearly Angels is going to have the tools to slow down their offense and chip shot / trade through the mid-game. But if opponents are going over the top with mana Ramp into Ugin, the Spirit Dragon… Playing out a ton of 4/4s is just going to give them more materiel to blow up with a cheap minus.
The synergies and rates are solid in the abstract. But we anticipate Angels will still have to invest in disruption or additional card advantage to compete in a wider field.
Plus! How to Play Foretell
… It ain't the same as morph and megamorph
Check out our new episode here: