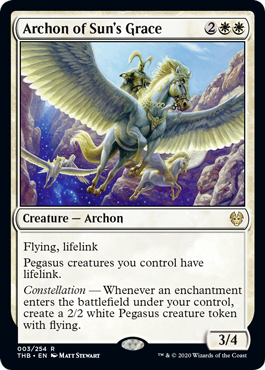 PV won Worlds 2020 with Azorius Control
Was PV's one of the most exciting lists of Worlds 2020?
Patrick in particular calls it well tuned.
Moving away from four copies of Dream Trawler to incorporate faster threats (or stabilization tools) like Archon of Sun's Grace, PV's winning list exploited a power enchantments sub-theme with cards like Banishing Light and Thirst for Meaning in addition to the ubiquitous Omen of the Sea and The Birth of Meletis.
Mike loved U/W coming into the tournament… But liked a different list.
Thoralf Severin added key innovations… Especially to the sideboard of Azorius Control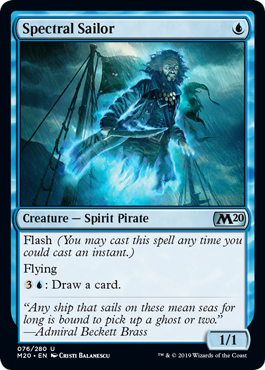 In the market for "some kind of Commence the Endgame"?
Thinking you might try to grind with Chemister's Insight after sideboarding?
Thoralf Severin did you one better with his addition of Spectral Sailor.
Dodging Dovin's Veto and largely sneaking under other types of permission spells, Spectral Sailor can act like a portable Chemister's Insight… But one that skirts the rules of Narset, Parter of Veils and Teferi, Time Raveler much better than some other card drawing options.
Speaking of powerful card draw, Severin also packed Emergency Powers!
One of the flashiest cards to see play a Worlds, Emergency Powers — at least when you have a Narset and they don't — can have a spectacular impact on the the game.
A "Shock"-ing Number of Burn Spells at Worlds 2020
If I told you there would be four dedicated Mono-Red players in a field of sixteen; and you didn't know much else about them…
How many Shocks do you imagine they would be packing between their decks?
Sixteen?
That would have been my guess!
The real answer?
Three… Between the four of them! One mage didn't even pack main deck Bonecrusher Giant!
The aspiring fire gods of Worlds 2020 had a really specific thought process on Shock… Don't be bad against Azorius Control and Jeskai Fires.
At the very least… They largely beat up Temur.
Was Jeskai Fires the Deck of Worlds 2020?
The most pronounced sideboard card that Gabriel Nassif and Raphael Levy ran in their Jeskai Fires deck was of course Robber of the Rich. Quite simply, it can potentially single-handedly dominate Azorius Control.
But Robber was far from the only unique feature of their build! Check out this week's podcast to find out all the reasons we think it might just have been the deck of Worlds 2020: