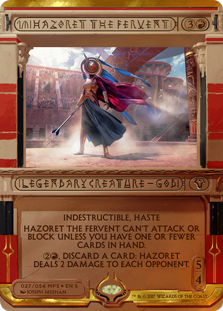 The Hazoret the Fervent Invocation
Hazoret the Fervent in Modern?
Tell ya what, Top Level Podcast fans: We're skipping Modern for the week. Patrick intends to "activate the [0] ability" … Starting next week.
Were there multiple Modern events last weekend? Yes.
But the world is about to change, officially, and soon.
That Gruul Eldrazi deck? How do you think that is going to run once Bloodbraid Elf starts pumping out Eldrazi Obligator? Exactly.
So for now: Innovations in Standard!
Half Hazoret the Fervent Decks
The SCG win by Todd Stevens with Dimir Control may throw you off. And Ali Aintrazi's Four-color Mastermind's Acquisition in third place is certainly exciting. But make no mistake: Hazoret the Fervent is a fixture of something like half of the top performing players, whether Mardu Vehicles or Red Decks (including, I guess, Boros Path of Mettle decks).
Fear not! The control decks are aware, playing cards like Moment of Craving, Vraska's Contempt, or even Gift of Paradise to defend their life totals.
The Price of Hazoret the Fervent
Hazoret is a powerful threat. And not just in the mirror! (But particularly in the mirror.)
Generally, we think four Hazorets is mandatory. There are other powerful four drops in red, but Hazoret is often completely unstoppable. Further, redundant copies can always be tossed for two damage.
Hazoret doesn't come cheap, though: This God demands sacrifice! In deck building an otherwise ("take two"). Not only is it an expensive card (in more ways than one) but Hazoret generally implies playing with cheap set up cards. Bomat Courier is almost always on board. There are a smattering of other one drops, removal cards, and so on in every successful Hazoret deck… You need to drop your hand in order to get this card online.
Mardu has its own concerns. In a sense Mardu is "an homage" to Toolcraft Exemplar + Unlicensed Disintegration. Don't shave either down to three copies (ew). In fact some builds push redundancy with Inventor's Apprentice.
None of this makes the Mana any easier BTW.
More in the cast!