Will Lich's Mastery be THE ONLY viable strategy in Standard?
This card is poised to completely warp Standard! It is a draw engine of unprecedented power. Imagine for a moment you were playing a big format and ran Lich's Mastery alongside Nourishing Shoal… The ability to draw cards with little to no incremental mana investment (after the initial six mana investment, of course) is unprecedented!
Yawgmoth's Will limits access to your graveyard.
Yawgmoth's Agenda locks you down to one spell per turn
This Legendary Enchantment has no such limitations.
Lich's Mastery + Gideon of the Trials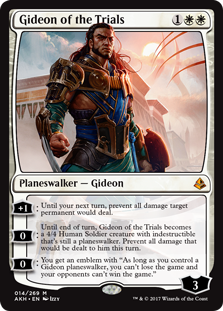 White is a natural pair to Lich's Mastery in Standard. Renewed Faith is one of the most obvious best buddies. It cycles to help you hit land drops early. Later on, you can draw six — count 'em
six
— extra cards for just one card!
Fumigate is also an awesome addition. The ability to gain one life per creature killed takes on new meaning when each of those creatures represents even more card advantage.
But what about Gideon of the Trials?
Is there a particular synergy with this Planeswalker that can also prevent you from losing the game? Yes!
Not only does Gideon rumble (giving your combo-control deck a way to win) but it can protect you from losing the game by losing your Lich's Mastery. Further, it gives you a redundant synergy with Glorious End.
Any two of the three — Lich's Mastery, Gideon of the Trials, and Glorious End — are great together!
Lich's Mastery + Glorious End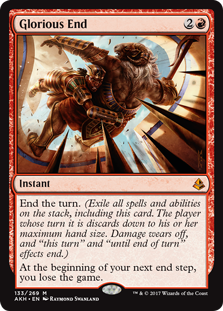 Glorious End + Gideon of the Trials was a combo that never quite hit in Standard. Is it awesome? Probably… But it never quite hit.
What happens when you add a third leg to the stool?
What happens when that third leg has hexproof?
Glorious End is just awesome with Lich's Mastery. Can you just Time Walk your opponent with Lich's Mastery in play? Sure. You can also Fog them, Counterspell them, and generally laugh at them from behind your Legendary Enchantment while they expend resources.
But did you ever think about this?
Cast Glorious End on their Turn Five. Maybe on their upkeep?
Untap and play the Lich's Mastery in your hand!
Cool, right?
What if you don't have a Lich's Mastery in your hand… yet? The planned End-Mastery play is a big game, but what might be even more fun is the desperate Glorious End-into-praying-to-draw-Lich's-Mastery. All part of the range.
All Kinds of Lich's Mastery Decks
In this episode of Top Level Podcast, Pro Tour Champion Patrick Chapin and Resident Genius Michael J. Flores discuss all manner of builds around and including this seductive six drop.
Black-White, Mardu, and even straight black takes are on the table.
Gifted Aetherborn? Creatureless? A couple of big guys? A ton of lifelinking Knights? Give this one a listen and figure out how you want your BBB3 to go in the coming months.