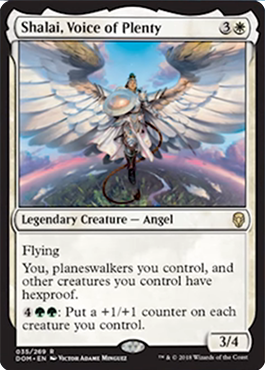 Shalai, Voice of Plenty is a 3/4 Flyer
A 3/4 flyer for four mana is probably not good enough on its own.
That said, there have been highly successful 3/4 flyers — Angels even — in the not-so-distant past. All it takes is one good ability and that 3/4 flyer can jump all the way to Staple.
To wit, Restoration Angel:
Restoration Angel
Like Shalai, Restoration Angel was a 3/4 flying Angel for only four mana. It ended up dominating Standard thanks to synergy with Thragtusk. Restoration Angel was also great at sliding into the Red Zone thanks to end of turn Flash, after a control deck had tapped for main-phase sweepers.
While Restoration Angel was mostly a Standard card (again due to its extraordinary synergy with Thragtusk), it has seen play in larger formats like Modern, often playing with Kitchen Finks or Flickerwisp.
Shalai, Voice of Plenty Turns off Shock
"You, planeswalkers you control, and other creatures you control have hexproof."
Remember what we said a second ago about just one good ability?
Well Shalai, Voice of Plenty has more than one! Mike focuses on this ability (while Patrick largely focuses on the other). There are many implications to giving not only you but basically everything else on your side of the table hexproof, but one of the coolest is that it turns off Shock.
Or in Modern, it turns off Lightning Bolt.
You can't be the target of the Shock. None of your other creatures can be the target of the Shock. In fact, the Shock can basically only target Shalai. That means, until the bad guys have a second Shock, that first Shock isn't going to be very shocking at all.
What's more, given Shalai's second ability, you can pull it out of even double Shock range with one green activation.
Shalai, Voice of Plenty in Modern
Shalai's "Hexproof" ability is powerful in Modern.
Because Modern has cards like Aether Vial and especially Chord of Calling, the ability to drop Shalai at instant speed adds a powerful dimension.
Current G/W decks, for instance, can slot in [at least one copy of] Shalai as a silver bullet. You can respond to, say, twenty copies of Grapeshot, spoiling the opponent's combo finish.
Even more interestingly, though, Shalai can fill the role of Ezuri, Renegade Leader or Walking Ballista. Shalai is much, much, better than Walking Ballista as a Chord of Calling target, as the latter is generally an inappropriate target.
Walking Ballista
G/W decks that can generate "infinite" mana will often use Walking Ballista as an endgame finisher. They make a ton of mana, and can kill however. Shuri might be an alternative. Infinite power from multiple creatures, rather than infinite one-point pings, might be slightly inferior (you need some attackers, you need them to be able to get through, you need a combat phase)… But if you are already playing 1-4 copies of Shuri for the hexproof ability, gaining Chord of Calling efficiency while saving a card slot or two might make sense.
Shalai, Voice of Plenty in Standard
Without a doubt, Shalai, Voice of Plenty is going to shine in Standard.
The one-two (rather four-five) punch with Lyra Dawnbringer is just too sweet.
If you untap with Shalai, you can follow up with Lyra and swing for four. Four lifelink (not just three damage) while leaving a plausible defender.
In some cases just tapping out for an awesome Angel might make sense… But it can still die. In this case, Lyra Dawnbringer will gain hexproof. So good luck getting through a flying, first strike, lifelink, and hexproof defender. Lyra will gobble up Glorybringer without even a scratch. It's not like you can kill it with conventional removal.
"4GG: Put a +1/+1 counter on each creature you control."
It is at least arguable that Shalai's third ability will be even more potent in Standard than Modern (infinite possibilities notwithstanding). This ability is highly comparable to Gavony Township.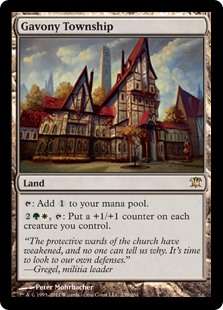 Gavony Township
The deck where you play Shalai is likely going to be G/W. You might have some late-game Llanowar Elves. This ability turns Elves into killers.
But it also turns killers into more vicious killers. Just pulling Shalai and Lyra into the 6+ toughness range is going to be yuge. (They themselves will be yuge.) Shalai might not give itself hexproof, but massive toughness simply means it's tough to kill.
This week's podcast clocks in at nearly an hour and a half.
Shalai, Voice of Plenty is just the first Dominaria card we discuss.
Check it: