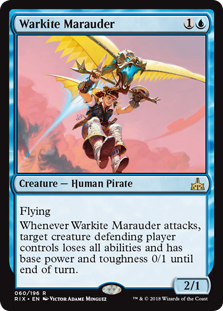 Warkite Marauder is a heck of a Magic Card
Playing Fair with Warkite Marauder
Let's start with the basics: Warkite Marauder is a pretty cool Magic: The Gathering Card. We've seen people play cards on the order of Welkin Tern — a blue 2/1 flyer for two mana with a disadvantage — in Standard Pro Tours.
Warkite Marauder is loads better than the best Vaporkin! It simply doesn't have the disadvantage. Meaning, Warkite Marauder can block whomever it wants.
But that's not all! As a 2/1 creature with flying, Warkite Marauder is not particularly resilient. It's cheap — evasive maybe — but also small. Basically anything will kill a Warkite Marauder in combat.
So, the ability to remove flying from a potential blocker is very useful. Get in there for two!
Who Plays Fair? God-Pharaoh's Gift
Here's the thing: A fair Warkite Marauder is pretty good. Better, in fact, than cards good players have played in recent years.
But no one is saying you should "play fair" with it. No sir!
The new style of U/R God-Pharaoh's Gift is basically a Red Aggro deck… But with a graveyard-combo twist. God-Pharaoh's Gift can correct the solo toughness of this Human Pirate, and haste enhances its combat trigger.
The U/R deck can act like Red Aggro (starting with Bomat Courier on turn one, but just happens to have a more explosive relentless end game.
The Real Value of Warkite Marauder
Good by itself.
Good with God-Pharaoh's Gift.
But the real value of this Human Pirate?
Teaming up with Walking Ballista and Fanatical Firebrand, Warkite Marauder can "build a Terminate" … But it's better than that! This is a "Terminate" that can take care of The Scarab God!
Not only will Warkite Marauder pull The Scarab God's toughness down to one (where it will be easy prey for one direct damage)… But because The Scarab God will lose all abilities, it won't come back.
Boom!
Warkite Marauder is just one of dozens of cards discussed in this episode! Most of the time is actually devoted to Dominaria. Check it out!