#mtgtogether gives us a window to this weekend's Arena "Grand Prix"
In light of what's going on in "the real world" (and the wide scale cancellations of large paper Magic tournaments) CFB Events are trying — for the first time — to run a Grand Prix on Magic: The Gathering Arena.
The simple rules…
CFB Events runs multiple flights per day
Anyone going 5-1 or better (generally 5-1 or 6-0) qualifies for the Grand Prix this weekend
What was amazing and inspiring to us?
There is all kinds of legitimate great new tech popping up as a result of #mtgtogether!
To date there hasn't been one reliable repository for the performing lists; so we thought we'd curate some of the Tweets from qualifying players and discuss their deck lists in this week's episode.
Ral's Outburst in Temur Reclamation…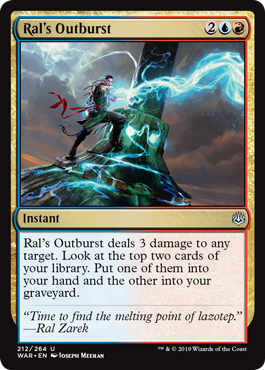 … is not even the craziest thing about this qualifying list!
5-1 in my first Magic Fest Online Qualifier!
I've took the idea of Ral's outburst and 29 lands from @crokeyz, which I think is a great deck builder and those changes are pure gas!
I'm playing Temur reclamation from a while and I still enjoy play this deck a lot 💕#MTGTogether pic.twitter.com/0FW06uj82v

— Mattia Rizzi (@Tia_Rizzi93) March 24, 2020
What's even crazier?
This is a Wilderness Reclamation deck… Crossed with Draw-Go? In addition to two copies of Thassa's Intervention, the miser's Aether Gust, and a couple of Negates… Temur Reclamation now packs four — count 'em four — Mystical Disputes in the main!
Pair that with a legitimate transformational sideboard bringing in the Full Four copies of Nightpack Ambusher and you have a meaningfully different look at the archetype.
Who needs Storm's Wrath or Nissa, Who Shakes the World? Am I right?
Bonecrusher Giant in <strike>Simic</strike> Temur Flash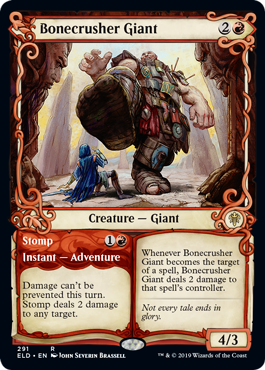 Here's another Temur innovation:
Not how I thought it was going to happen but qualified for #MTGTogether with a 3-0 in the second qualifier today. Played the @TeamLotusBox RUG Flash deck even though it's not really my style of deck, and it worked out pic.twitter.com/9Dl1x75Xri

— Edgar Magalhães (@EdgarMTG) March 25, 2020
Two-thirds Simic Flash… One-third Temur Reclamation?
This deck has a lot of what made Simic Flash the first time around — including Spectral Sailor — but added sweet red cards like Bonecrusher Giant and Expansion // Explosion. And Wilderness Reclamation!
We see the Nightpack Ambushers main deck here… But very low permission (relative to past Simic Flash decks). But who doesn't love Wilderness Reclamation powering up those Sailors?
And Matt Sperling's near-perfect Bant List
Mike's friend Roman Fusco took down an #mtgtogether event 6-0 packing what might be the mathematically perfect Bant list:
6-0 in my first MagicFest Online Qualifier! Glad @fivewithflores convinced me to play Bant over Sultai. Can't wait to battle this weekend! #MTGTogether pic.twitter.com/ycct8VTaFY

— Roman Fusco (@roman_fusco) March 24, 2020
Notably:
Two copies of Arboreal Grazer
Zero copies of Knight of Autumn
Four (!) copies of Elspeth Conquers Death (4!) [as it is the best]
Mike would have liked a second Dream Trawler; but Patrick thinks that's a mere security blanket. The pair agree that Bant is the best deck in Standard, and the list that Sperling came up with (and Roman qualified with) is very — very — close to what they would both play right now.
And Finally… Cavalier of Thorns in Sultai!
Mike has been really low on Sultai, at least relative to the availability of Bant in Standard. His main reason? Not only does it not play Dream Trawler, it couldn't historically stop it, really.
Daily Qualifier 5-1.Cavalier Sultai is still great.
I don't like to play Mystical Dispute in grinding game.
Love Negate.

×Bant Ramp
〇Rakdos Sac
〇Temur Adv
〇Rakdos Sac
〇Rakdos Sac
〇Temur Adv#MTGTogether pic.twitter.com/xd4QB8Rovt

— Yuta Takahashi (@Vendilion) March 23, 2020
But Yuta Takahashi's Cavalier of Thorns has enormous toughness that is difficult (though admittedly not impossible) for Dream Trawler to get through; and with Reach, it can kill Dream Trawler in combat.
And of course, Cavalier of Thorns can help power up the Escape routes on Uro and Polukranos!
Patrick's favorite feature? Cutting Agonizing Remorse for the last two copies of Growth Spiral. Mike heartily agrees. This is a substantial improvement on the Sultai archetype.
But wait! There's more!
Rakdos sacrifice with no copies of Kroxa, Titan of Death's Hunger
Rakdos sacrifice that really — really — hates the graveyard
Whether Erebos's Intervention is even playable
Even more Temur
Let's get #mtgtogether now!