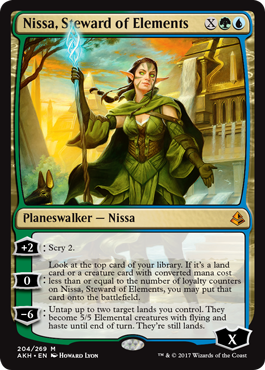 Nissa, Steward of Elements breaks — or at least bends — many rules
What an interesting Planeswalker!
What a glorious set of abilities!
A perceptive mage might even point out that Nissa's casting cost is itself kind of a special ability… It is after all something special, something we haven't seen before, at XGU.
For one thing, you can cast Nissa, Steward of Elements for a mere GU. This is not a typical play, though, as Nissa will go directly into the graveyard if you do so… But maybe that's okay. Maybe you're on the Delirium track and you are okay spending two mana to put the Planeswalker type into your graveyard. Or maybe you've previously cast an Oath of Gideon or Oath of Ajani, letting you get away with that cheat.
But even at 1GU Nissa is part of the rare breed of "three" mana Planeswalkers. The original Jace Beleren, as well as a number of Lilianas, have proven tournament Staples due to being only three mana. Nissa can come down for 1GU and immediately tick up with the [+2] to "start" at three loyalty (while giving you a nice look at the top of your library).
[+2] : Scry 2.
Nissa's "plus" ability is perfectly serviceable. It's not the most exciting plus ability, but it does a couple of things well in her context. As we've already said, starting the three mana version of Nissa at three loyalty is potentially solid. Especially early, the ability to add two loyalty to Nissa can act as a proxy for defending herself.
Separately, Scry 2 is extremely synergistic with Nissa's second ability. Because it goes two deep you can know what you will hit, even after your next draw step, meaning you can theoretically ensure a 100% hit rate.
[0] : Look at the top card of your library. If it's a land card or a creature card with converted mana cost less than or equal to the number of loyalty counters on Nissa, Steward of Elements, you may put that card onto the battlefield.
Nissa's second ability is erratic, but potentially powerful. If you use the Scry 2 ability, you can ensure a hit… But you don't 100% need to. If Nissa is already at very high loyalty you might be able to hit even a big fatty like Ulamog or Torrential Gearhulk. Your worst case is of course using Nissa blind and missing, but on the low(ish) end you can also just use this as a mana ramp ability.
It is not out of the question to use Nissa, immediately [0], hit a land, and have five or even six mana available the next turn. A more consistent play pattern might be to reveal two lands with [+2], draw one of the lands, and [0] the other into play. Three straight to five!
Nissa is probably going to draw fire for "not protecting herself" but that isn't 100% the case. The [+2] gives Nissa a bit of resiliency, but the ability to even sometimes land a creature to block is also a measure of defense (though, again, not super consistent).
[-6] : Untap up to two target lands you control. They become 5/5 Elemental creatures with flying and haste until end of turn. They're still lands.
This ability is what sets Nissa, Steward of Elements apart.
Who cares if she doesn't defend herself if your intention is not to keep Nissa, Steward of Elements around? For the bargain price of eight mana (6GU) you can just Fireball your opponent for ten! Take ten in the air! Blammo!
The "take ten" [-6] is not the most flashy or powerful Ultimate in the history of Planeswalkers, but its speed is like nothing we have ever seen before. A Ramp deck can land this ability out of nowhere. We can even imagine consecutive turns of ten plus ten, winning with no non-Nissa-Ultimate damage.
Pro Tour Champion Patrick Chapin blows it all away with an additional observation:
"What if you just play her for nine?"
Nissa and Liliana are joined by Sphinxes, Beasts, and 2/2 flying tokens in "Nissa, Steward of Elements Will Get You for 10"