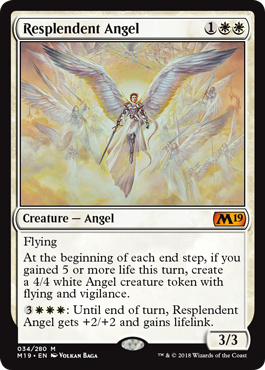 Resplendent Angel is just one of several strong flyers from Core Set 2019, revealed earlier this week.
Resplendent Angel
Effect of card: Flying. At the beginning of each end step, if you gained 5 or more life this turn, create a 4/4 white Angel creature token with flying and vigilance. 3WWW: Until end of turn, Resplendent Angel gets +2/+2 and gains lifelink.
Converted mana cost: 3
Type: Angel
Sets: M19
Game: Magic: The Gathering
Colors: White mana
Illustrators: Volkan Baga
Doesn't Resplendent Angel Just Get Killed by Abrade?
That's the problem, right?
As a 3/3 flyer for three mana, Resplendent Angel is a nice package for its cost. Its many other abilities imply that it should be able to take over the game by itself.
But with only three toughness, it is vulnerable to multiple cards in the most popular current Strategy… Not just Abrade but Lightning Strike will eliminate this creature.
While the Angel has the ability to buff itself offensively and gain lifelink… That doesn't cure three toughness versus instant speed removal. The same Abrades, the same Lightning Strikes, will be able to shoot it out of the sky in response.
They can't always get her, can they? And anyway, when she's good, she's got to be really good.
The Resplendent Angel Payoff
Bash!
Hit you for five!
Gain five!
High five!
Extra Serra Angel, yadda yadda yadda.
Is that the payoff?
It is certainly a payoff… But there is no reason to think so narrowly.
Resplendent Angel is pretty efficient: A 3/3 flying creature for three mana is a heck of a Gnarled Mass! But this is a card that can get better in the right context.
What about playing it with Shalai, Voice of Plenty and Lyra Dawnbringer? Giving this creature +1/+1 and lifelink off the bat puts it a long way towards the Serra Angel trigger.
But that's not all!
There are just a critical mass of life gain cantrips. You can cast Renewed Faith, gain six life, and get a 4/4. But M19 brings with it Revitalize. This card can combines both halves of Renewed Faith, but with a little less flexibility.
What we mean to say here is that at some point Crested Sunmare has got to good enough at some point, right? #horsetribal
Tons more M19 in this podcast, including scads more flyers; from Nicol Bolas to his fellow Elder Dragon Legends. Many of them look equally fantastic. Learn more in the cast: