"Abzan Aggro and Warden of the First Tree" discusses…
Identifying good cards… and playing them!
How and when to "kill your darlings" in deck building. When do you, say, cut a Sakura-Tribe Elder, Goblin Piledriver… Or Courser of Kruphix? <-- This is a key deck building superpower!
The secrets of the Abzan Aggro deck that Patrick and other top Pro players ran at Grand Prix Denver (including a second-place "steak knives" finish by friend, friend, and friend of the 'cast Matt Sperling).
Matt Sperling's Abzan Aggro (care of Paul Rietzl)
2 Bile Blight
1 Herald of Torment
2 Hero's Downfall
4 Thoughtseize

4 Abzan Charm
3 Anafenza, the Foremost
4 Fleecemane Lion
3 Rakshasa Deathdealer
4 Siege Rhino
2 Sorin, Solemn Visitor

4 Heir of the Wilds

2 Wingmate Roc

3 Caves of Koilos
2 Forest
2 Llanowar Wastes
2 Plains
4 Temple of Malady
2 Temple of Silence
4 Sandsteppe Citadel
2 Urborg, Tomb of Yawgmoth
4 Windswept Heath

sideboard:
2 Bile Blight
1 Dark Betrayal
2 Drown in Sorrow
1 Murderous Cut
3 Back to Nature
2 Hunt the Hunter
3 Glare of Heresy
1 Wingmate Roc
Contextualizing Abzan Aggro for a post-Fate Reforged world… Where Patrick and Michael talk about newcomer Warden of the First Tree!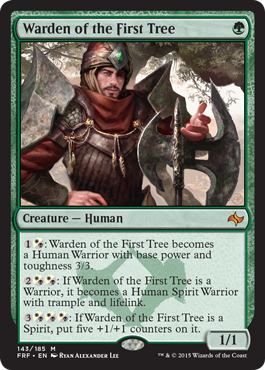 Warden of the First Tree
Many Warden of the First Tree ideas, and in-depth analysis of the card!
What are you waiting for? Listen to this great new episode!
Want to hear more from Patrick and Michael? Check out their Magic: The Gathering books:
Patrick's Magic: The Gathering Books
Michael's Magic: The Gathering Books