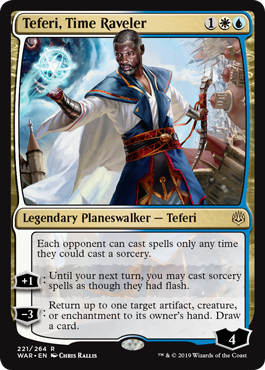 Teferi, Time Raveler Headlines an Unexpected — but not unwelcome — Series of Bans
There were kind of A LOT of cards banned — or banned and suspended — this week.
In Standard alone…
Growth Spiral (probably the best card in Standard) was banned.
Wilderness Reclamation was FINALLY banned. This was a card that has been flirting with a ban since its first Pro Tour
In a surprising move, Cauldron Familiar [a bookkeeping challenge] was banned as well!
But Teferi, Time Raveler found himself banned not only in Standard and Brawl… But suspended in Historic as well!
So… Cauldron Familiar… Really?
This one was less about format balance and more about player experience in a digital-first world.
Most Importantly: What's Up Next?
What are the best cards [left] in Standard?
What are the top decks that players should consider with so many of the pillars of the format knocked on their sides?
One easy way to find out: