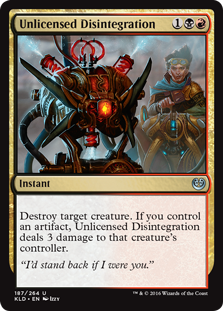 Unlicensed Disintegration is one of the defining cards of the current Standard… And is probably too good.
Unlicensed Disintegration is an odd one. "Orzhov" decks will splash red for it. Seemingly two-color red-green decks will go Jund for it. Why? At least in the context of Standard, it's just too good.
Compare Unlicensed Disintegration and Murder. Both are three mana. Both destroy a creature at instant speed. Theoretically the different color on Unlicensed Disintegration is a disincentive (though one you get paid a lot for). The crazy thing is that Unlicensed Disintegration can actually be easier to play than the one-color Murder in many decks! Artifacts or no, it can just be smoother than finding a second black mana.
Of course the presence of artifacts goes a long way with this card.
Patrick makes the obvious comparison to Blightning:
"Mind Rot… Not the greatest card. Fringe / almost playable. Add three damage and it's warping."
Unlicensed Disintegration takes a better-than-fringe playable card (Murder) and tacks a "Lava Spike cantrip" to it. The ask of having an artifact in play is so trivial for the dominating Mardu decks. Their Thraben Inspector gives you artifacts. Their Heart of Kiran is an artifact! It's even cool for Grixis decks to play just Torrential Gearhulk as an artifact (to again enable Unlicensed Disintegration).
Will it get banned on Monday? Patrick sure hopes so!
Our intrepid duo talk not only Unlicensed Disintegration the card, but compare the two main schools of Mardu.
… And then go in a completely different direction!
The Improvise Deck Patrick Almost Played at PT Aether Revolt:
"Unlicensed Disintegration & U/R Improvise" is a Standard cheat sheet. If you are looking to grok Standard prior to Monday's changes, look — rather, listen — no further.