It's Kaldheim Spoiler Season!
This set seems to be exploring creature types in multiple dimensions. Last week we talked about a card where race (i.e. Dwarves) mattered. Increasingly we see cards where class (like Berserker or Cleric) might, too.
Are you in it for Humans? Elves? Dwarf Berserkers? Angel Berzerkers? (For the record we delve all the way to Demon Berzerkers in the first few minutes.)
Do You Like Angels? How About Them Angels?
Angels seem like a pretty mechanically pushed creature type in Kaldheim. With a limited number of cards revealed we aren't 100% sure how the Angels deck will manifest, but we can see an initial direction:
Mike is never going to let anyone forget that 1/3 for two mana can make for a competitive body if you know who you're up against. But even if it's not a squad of Jackal Pups you're up against, Youthful Valkyrie seems like an awesome way to spend your second turn if you are playing an Angels-themed deck!
What about following up with Renegade Reaper?
This card doesn't seem like the best on rate… But 1/3 for two mana followed by 2/3 on three mana with multiple triggers actually makes for a cohesive theme. Angels can certainly be set up for blocking, life gain, and generally forcing a StOmPy or Red Deck in Standard to play into strategic blocks.
Can we do better than Renegade Reaper on three? Probably. But the message is clear: Angels Matter.
This is especially true with payoffs like Rampage of the Valkyries making "fair" Magic play impossible.
Kaldheim Spoiler Season Goes Big with Giants
Got five mana? A Red Deck could do worse than…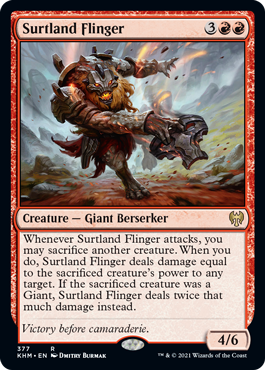 Surtland Flinger is a 4/6 for five mana with a — pardon the adjective — giant text box. Mike points out that medium and big Red Decks over the years have been happy with 4/4 Dragons at five; Surtland Flinger can be in the range even without the appropriate fuel.
Patrick brings it back to reality, pointing out that there have been some truly awesome Giants to Fling the last couple of years:
Kroxa — conveniently still legal to play in Standard — probably did a bunch of damage already, so if Surtland Flinger is reading off that text box, it might very well be game!
Giants have a variety of interesting if not spectacular new tools… Like Fire Giant's Fury! Imagine connecting with a Beanstalk Giant. It's not just about the card advantage… Trample is a powerful upgrade to the X/X cantrip.
All That And…
The Big, Bad, Wolf. (is it good?)
Find out here!