Meet Valki, God of Lies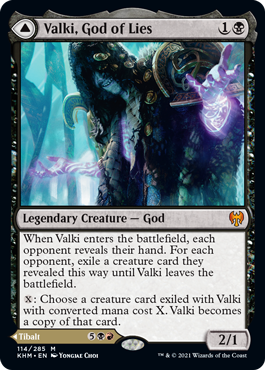 A little smaller on the back-side than a Tidehollow Sculler. With disruption a little less disruptive. Or, as Mike points out, a little bigger than a Mesmeric Fiend. If terrible, terrible, types.
But that's not all!
Valki might only hit creatures, but gets better the better the opponent's creatures.
Still not all!
Valki, God of Lies can come down, trigger his 187, and die in response. (For instance you can sacrifice Valki to the Pyre of Heroes before actually looking at the opponent's hand.) Valki will die, giving the creature back. But because you have not taken it yet, there is nothing to give back. Ergo, when the trigger does fully resolve, it will be permanent.
And of course there is the option of just stealing a big Baneslayer Angel… Which will allow you to make Valki, God of Lies into the Baneslayer Angel. The aforementioned Baneslayer Angel will not have the text referencing the return of the Baneslayer Angel; so if and when it dies, they opponent will be returned zip, nada, nothing.
Great card on the front side? Good at least? Did we mention Valki, God of Lies is a Modal Double-Faced card?
… Who is also Tibalt, Cosmic Imposter
Notably, using the [+2] only twice will put you in a position to [-8].
And in this case? [-8] is akin to drawing like twenty cards.
Valki's fail state is "2/1 for two mana" which isn't good enough in the abstract… But can still put the opponent on a clock. That, combined with all the rest of Valki's options — including the option to play him as a big seven — makes this one of the most exciting potential options in Kaldheim.
We're buyers.
Kaldheim Continues to Heat Up
Hakka, Whispering Raven – Does an awful lot. The fact that it can bounce back to hand (to be played as a Maro-like God afterward) is cool… But potentially restrictive. Patrick points out that it's a Hammerhead Shark (which was a killer)
Behold the Multiverse – Is great! Seems better than Glimmer of Genius (which was heavily played, even in non-energy decks)
Glimpse the Cosmos – Is a worse Shimmer of Possibilities… But has a great synergy with Giants. Mike points out he won a PPTQ with Bonecrusher Giant and original Shimmer of Possibilities without the possibility of a one mana buyback.
Niko Aris – Is in just for the Nekrataal-ness. Seems cool with Elspeth Conquers Death… And is clearly a great option for grinding card advantage OR tap-out decks.
Old -Growth Troll – Almost has to be seen to be believed! Short list for the best card in the set, for sure.
Absorb Identity – Might not be that great. But when it does win? It'll be very satisfying!
But nothing from Kaldheim is even the coolest thing to talk about this week:
Don't Miss Patrick's Swimsuit Calendar!
Mike guest stars along with a number of Magic: The Gathering's biggest superstars.
All proceeds to to The Trevor Project.
Check it out now on etsy.