Have You Seen The Omenkeel from Kaldheim?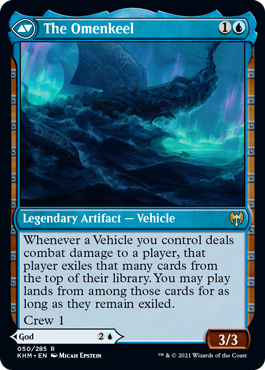 The Omenkeel is a 3/3 vehicle for two mana… It's got more than a little Smuggler's Copter to it.
In Standard, this card seems like it could slot into a Dimir Rogues deck. And that Crew 1 — one — is an attractive pair with almost any creatures. Okay, okay… Maybe not Ruin Crab. But most.
It might work in larger formats; but there is a heck of a blue one drop in Kaldheim for potential Standard play, as well.
Buuuuut… The Omenkeel isn't even the front side of this card!
Cosima, God of the Voyage is The Omenkeel's Other Side
Cosima, God of the Voyage is a complicated card with eight lines of rules text before you consider it's a modal double-faced card that also gives you the option of The Omenkeel.
First and foremost… There is no shortage of 2/2 creatures for three mana that people are willing to play, so long as they get even a little bit of card advantage. Borderland Ranger, Trinket Mage, Treasure Mage and more all fall into this category. Cosima is a comparatively gigantic 2/4.
This card allows you to set up a slow grind. Provided you can exile it the first time, Cosima can accumulate a ton of potential extra cards (and size), assuming the opponent doesn't just kill you.
The two sides of the card potentially work nicely together. You can exile Cosima, but run a conveniently-not-redundant The Omenkeel to ensure a steady stream of lands. An exiled Cosima in fact works wonderfully with other modal double-faced cards. It's lands Lands LANDS that lead to inevitability here.
Plus…
The fair — and unfair — implementations of Tibalt's Trickery
One of the sickest blue one drops ever. Ever!
A new engine that is a little bit Sensei's Divining Top, a little bit Neoform… And a little bit Survival of the Fittest.
Check out "Let's Take a Ride on The Omenkeel!" right now!