Baneslayer Angels.
Mulldrifters.
Titans.
Discuss.
Michael and Patrick discuss this quite a bit, mostly around large creatures (often Baneslayers) from the upcoming Core Set 2021. But you know what is, and unambiguously, a Titan?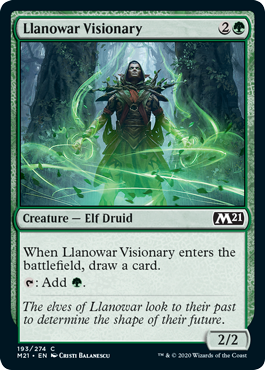 Llanowar Visionary is a Titan
Mike has already drawn a line in the M21 sand: Llanowar Visionary is his favorite card; and he is unlikely to be moved from this point.
Drawing a card is approximately as powerful as searching your library for a basic land. Any longtime readers or listeners of Mike know his adoration for cards like Borderland Ranger. Borderland Ranger was a 2/2 creature for three mana that searched up a basic. No one wanted to trade with it.
Llanowar Visionary is largely an upgraded Borderland Ranger. In the early game drawing a card will often be worse than searching up a basic land (but will usually be better late game). The difference? The body on Llanowar Visionary actually matters!
That's the difference between a Mulldrifter like Borderland Ranger and a Titan. Both cards generate value immediately; pointing a Doom Blade at either is going to put you at least a little behind. But while Borderland Ranger is a boring 2/2 after its 187, Llanowar Visionary is an awesome mana Elf and the opponent will often be overjoyed to Doom Blade one.
Basri's Lieutenant or Baneslayer Angel?
Which is better?
We'll actually get to find out, given that Baneslayer Angel — the original best large creature of all time — is back in Standard! This will allow for direct comparison to Basri's Lieutenant:
Protection from multicolored might be a big game. Stonecoil Serpent certainly helped carve its niche on the back of that ability in Pioneer.
While it says 3/4 in the bottom-right, Basri's Lieutenant is a de facto 4/5.
But maybe most of all, Basri's Lieutenant can produce 2/2 Knight creature tokens when certain of your creatures die. It can defy removal and set up any number of profitable trades, therefore.
But will it be better than Baneslayer?
Stay tuned…
How to Play with Peer into the Abyss
This is a tough one to assess.
Do you target yourself?
When exactly do you target the opponent?
Some pretty good thoughts and one mondo combo one click away: