This week Top Level Podcast returns to examine the weird and even "disrespectful" world of Modern decks. The newest sets have helped breathe life into older cards, and have even given way to a new engine or three!
Goblin Charbelcher is Our Modern Deck of the Week
"It's like the 'Oops, No Lands' deck… that doesn't lose to graveyard hate."
So let's talk about Goblin Charbelcher.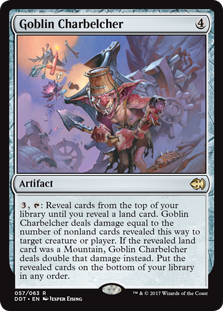 Back in the day, Pro Tour Champions like Gabriel Nassif had to take the time to cast Mana Severence before tapping a Goblin Charbelcher.
These days, thanks to Modal Double-Faced cards, you don't have to play any "lands"-lands at all! So… Goblin Charbelcher will never naturally hit a land.
Interesting technology: Blood Moon!
Blood Moon is relevant in general due to the popularity of Tron decks. But! It also subtly fixes your own mana. Don't forget, this deck has cards like Irencrag Feat with RRRR in the casting cost. Blood Moon actually helps make that cast-able.
Goblin Charbelcher is only the first place we'll see Recross the Paths
In a deck with no actual lands, Recross the Paths lets you stack your Modern deck!
You can do all different kinds of things with this old-card-given-new-life, like…
You can give yourself several copies of Pact of Negation in a row, which will help you to resolve your Charbelcher
What about every copy of Manamorphose? They are remarkably "free" after your first two mana investment, and can help you make lots of Goblins with your sideboarded Empty the Warrens
Reforge the Soul seems like an awesome Miracle to topdeck! This is especially synergistic given you can be down a card (or more) from just playing Recross the Paths
Even More Modern Decks…
80 cards in the Modern deck? Winota, Joiner of Forces is just showing off now.
Making your Death's Shadow difficult to block
Boros or Mono-White Colossus Hammer?
Find out about "More Innovation in Modern Decks" now!