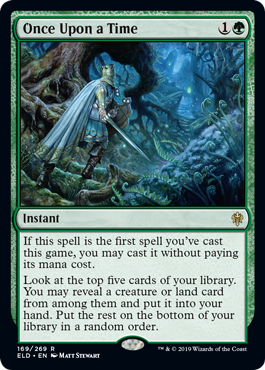 Once Upon a Time in Amulet Titan
The powerful Throne of Eldraine instant provides great stability to the explosive — but sometimes inconsistent — Amulet Titan deck.
This card can help set up a first-turn Sakura-Tribe Scout, find a particular land (say green source), or of course ensure that you have Primeval Titan as soon as you have the mana to play it.
But that's not all from Throne of Eldraine! Castle Garenbrig makes an appearance here, and even comes into play tapped sometimes (to help net mana with Amulet of Vigor). Another recent addition [with the superpower of entering the battlefield tapped] is Field of the Dead.
Field of the Dead is a "one-card combo" in the land rich Amulet Titan deck, a powerful tool for long games.
Once Upon a Time in Selesnya
The "Devoted Devastation" version of Selesnya makes abusive use of Once Upon a Time to find the Devoted Druid + Vizier of Remedies infinite combo. The new instant is just one of many Tutors in this deck, though…
Eladamri's Call
'Eldrich Evolution
Finale of Devastation
(and of course this card)
The deck can be fast.
That isn't even the only Selesnya deck performing! In Selesnya Eldrazi Once Upon a Time teams up with Ancient Stirrings to assemble mana acceleration [lands] and ensure action.
Once Upon a Time can find Stoneforge Mystic, which is a big game for a deck with so much upside potential on the mana. Remember, Once Upon a Time can also help get you a first turn mana accelerator or Eldrazi Temple! Or one of the big guys later, of course.
The Best of the Rest
Urza Outcome versus Urza Ascendency: Fight!
Why would you want to cast Yawgmoth, Thran Physician
Oh, and what (if anything) is getting emergency banned in Standard?
All that and more is one click away!