Nobody's Making You Tap Castle Locthwain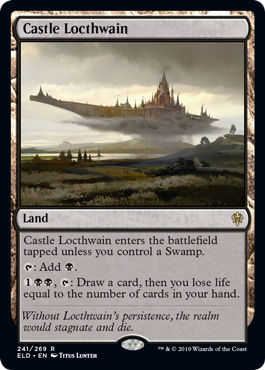 Castle Lochtwain is already splitting the community.
"It's not that good," say some. "You're just going to take, like, eight damage."
Well… Did you think maybe you're supposed to take eight?
The reality is that you don't have to tap it. It's relatively low cost to get into your deck, but presents a lot of useful options.
If you're in topdeck mode, Castle Locthwain from Throne of Eldraine is pretty great. You're only going to take one and you're going to dig past your opponent.
Some strategies — like Death's Shadow — actually reward you for losing life. You're welcome.
Subtly, this is a way you can generate card advantage — at the end of your opponent's turn, no less — even if they've got Teferi, Time Raveler in play!
Whatever Esper! It's probably just great in black-red decks.
Castle Vantress is an Expensive Way to Do It
Don't expect this member of the Throne of Eldraine "castle" cycle to be super popular. "It could be okay to play one" says our beloved Pro Tour Champion, but it's essentially five mana to not actually draw an extra card.
Probably effective in slow, grinding, matchups; though.
Castle Garenbrig is going to be a four-of
Castle Garenbrig, on the other hand, is a super obvious contributor from Throne of Eldraine. Many decks are just going to play Forests and Castle Garenbrigs (say four copies)… Which will turn Castle Garenbrig into, essentially, a Forest.
… Except you're going to be able to land Feasting Troll King (and its Food tokens!) a turn early.
This card is essentially an Ancient Tomb with no life loss drawback that also washes mana. Castle Garenbrig just looks great!
Will Castle Ardenvale be the Gem of Throne of Eldraine?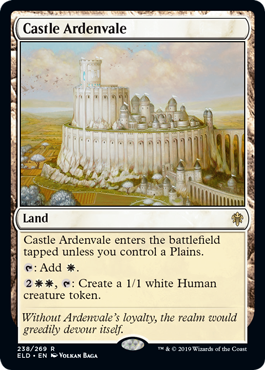 Castle Ardenvale is more-or-less just better than Kjeldoran Outpost. If you think back to the Outpost's era, you either had a strategy to beat it… Or you lost to it.
Cards like this one are especially useful because they occupy "land" slots instead of "spell" slots. That means you can save space for other things, and win incidentally with an army of free 1/1 creatures.
Stomp // Bonecrusher Giant will be a cross-format All-Star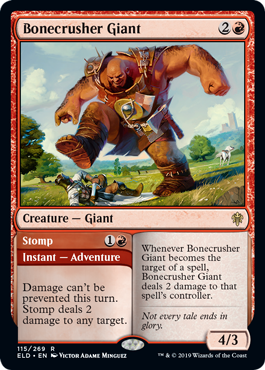 Stomp // Bonecrusher Giant is "clearly of the Top 5 cards in the set" according to Patrick.
We agree the card will be highly played in Standard. Michael, for instance, thinks it will immediately Top 8 a Star City Open the first week the card is legal.
On top of that, though, Patrick thinks the card will see play in not only Modern but Legacy and even Vintage! In Legacy, they already play all kinds of terrible red three drops, and this one has a removal spell tacked on. The needs in Vintage are quite specific, and this card does multiple things reasonably well.
There is too much Throne of Eldraine in this podcast to summarize here
The Magic Mirror…
Fae of Wishes…
Black Lance Paragon…
… Really, more brewing than you can even fit in The Cauldron of Eternity.
You'll just have to listen to the podcast: