The 2019 MOCS Decks played cards from… Core Set 2021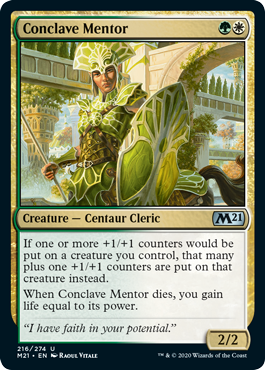 Conclave Mentor is a newer card that helped revitalize some already powerful decks and combos for the 2019 MOCS decks.
Champion Michael Jacob played a variety of +1/+1 counter-based cards, including Scavenging Ooze; Walking Ballista; and centerpiece combo pieces Spike Feeder; and Heliod, Sun-Crowned.
While "fair" compared to an infinite combo, we thought it would be fun to point the card out, for all the reasons.
The MOCS Decks showcased both Modern and Pioneer
… And showed off awesome innovation in both formats!
In Modern, "Oops All Spells" seems faster than ever. Cutting down to 60 cards (from 77 or even 80), the Modern version is a singleminded killer.
Tuning elements include adding Shatterskull Smashing for even more early untapped land, and as many as three copies of Leyline of Sanctity… Main deck!
In Pioneer, Michael Jacob combined fair and unfair elements to produce a beautifully tuned champion. Big elements included Oath of Nissa and Nykthos, Shrine to Nyx for setup and engine… But sometimes topped up on a "mere" Elder Gargaroth. From the same set, Llanowar Visionary makes a surprise — but highly appropriate — appearance.
"I like how it can down-shift."

-Mike